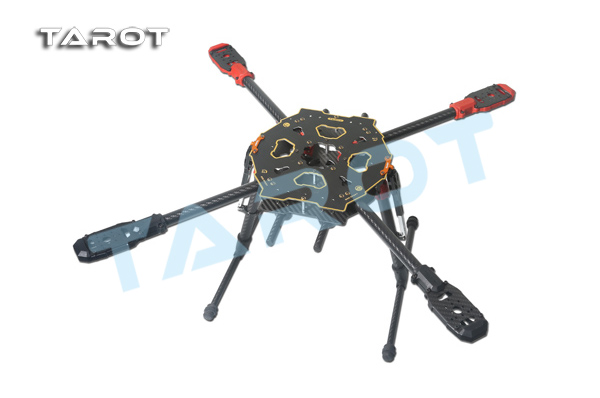 Product Description:
TAROT 650 SPORT quadrocopter 650 series rack chassis replacement, TAROT innovation designed by the company, with a number of patented technologies. 650SPORT standard new electric folding tripod, electric retractable tripod controller TL8X002, a lower center of gravity, more stable large installation space optimization design, exterior design has a strong impact perspective.
Body with high strength composite matte gold process of the PCB, PCB board integrated power supply wiring, electrical wiring and other transfer more efficient, safe and provide adequate space for the installation of various flight control systems. New Motor Brushless ESC installed new seat position, harness protection card, clip-on design easy to adjust the motor base level. Color eye-catching color overall design has a strong impact perspective effect, provide a good visual direction for the body in the air.
TAROT 650SPORT quadrocopter rack for portability demanding users to design, particularly suited to do surveillance, remote sensing, mapping, airborne reconnaissance, fire observation, life exploration, cable transmission line, farm monitoring, and other high performance requirements for mobile, equipment and requires a longer application load small aircraft when the field is left blank.
State Intellectual Property have been granted TAROT HM Ltd. This product is four patents:
The state intellectual property has been awarded the TAROT model., Ltd four patents. Any units orindividual without the license holder manufacture, copy, use and sale the product will be patent lawsuit.
patent number patent number: 2014101408249
patent number patent number: 2014201726798
patent number patent number: 2014300815963
patent number patent number: 2014300815982
Configuration specifications:
Wheelbase Diameter: 600MM
Rotor Size: 12-15 inch T series carbon fiber propeller
Brushless motor: 4S / 620KV4006 brushless motor TL68P02
6S 380KV 4008 multi-rotor disc brushless motor TL68P07
Battery Specifications: 10-15C, 14.8V -22.2V, 4000-5000MHA
Brushless ESC: 20-30A
Accessories Reference Number:
500 dedicated outfield bag / black – reinforced TL2647
680PRO carbon fiber pattern hood TL2851
680PRO Symphony paragraph hood TL2853
680PRO flag paragraph hood TL2852
다음 유튜브 동영상은 Tarto 650 Sport 프레임의 이해를 돕습니다.